Floor Plan
Unit 14 features over 2,000 square feet living area with 3 Bedrooms, 3 Baths and a 217 square foot deck. The walls separating each residence are double-wall construction with two layers of acoustical blankets separated by an air gap to prevent vibration and noise transmission between units. The floor is constructed of lightweight concrete over a wood sheathing base imbedded with acoustical clips to add mass and reduce sound and vibration transmission between floors.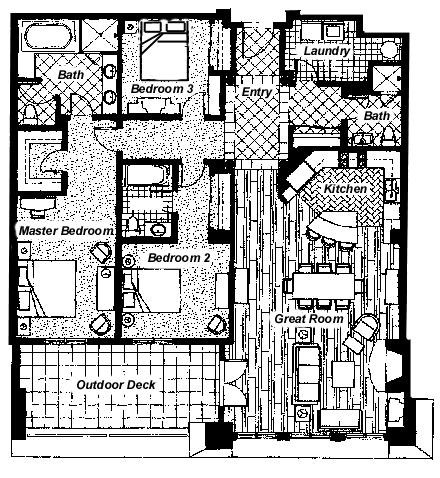 Unit 14 features recessed, low voltage, and incandescent ceiling lighting in the bathrooms, hallways, and kitchen. The unit has a laundry room with side-by-side full-size washer and dryer. The water heater system provides self contained domestic hot water and hydronic fed heating in the floor. Thermostat controls are provided in each room. The water heater system ensures maximum heat transfer and rapid recovery for an abundant domestic hot water supply.
Come visit Sun Valley and enjoy your stay at Unit 14!!