Directions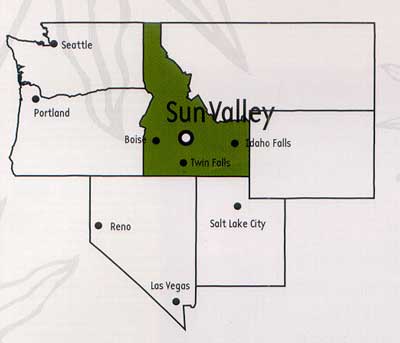 By Air
To Sun Valley:
All flights arrive and depart from Friedman Memorial Airport (SUN) and Sun Valley Aviation in Hailey, Idaho located 12 miles south of Sun Valley/Ketchum.
Horizon Air, 800.547.9308, offers 2 to 3 daily non-stop flights from Seattle, connecting with Alaska Airlines flights throughout the West Coast.

SkyWest Airlines, 800.453.9417, offers 7 to 13 daily non-stop flights from Salt Lake City, connecting with Delta flights.

Delta Airlines, 800.221.1212, offers connecting flights via SkyWest Airlines through Salt Lake City.

Daman-Nelson Travel, 800.899.7669, offers direct flights on Alaska Air Charters from San Francisco and Los Angeles to Twin Falls with charter bus transfers to Ketchum/Sun Valley.
To Boise, Idaho
Sun Valley's regional gateway city of Boise, Idaho (BOI) offers 60 flights a day on a variety of airlines including:
Delta Airlines - 800.221.1212
Horizon Air/Alaska Airl Connection - 800.547.9308
Northwest Airlines - 800.225.2525
SkyWest Airlines/Delta Connection - 800.453.9417
Southwest Airlines - 800.435.9792
United Airlines - 800.241.6522

Unit 14 at the Colonnade is ideally located in Ketchum at the corner of Walnut and Sun Valley Blvd. It is within close proximity to the shops, restaurants, and night life of Ketchum and the Sun Valley Resort.
Local Transportation
The Ketchum Area Rapid Transit (KART) system provides free transportation throughout the Sun Valley/Ketchum area - 208.726.7596.